"I want this on my table right now"
"Even your grandma can play it"
Pongarena
A powered up version of the arcade classic pong.
This is not just tennis, this time it's a shoot'em up.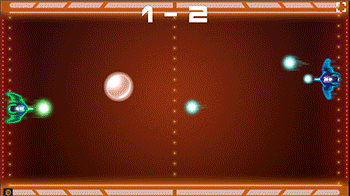 Score the most goals by shooting the ball with your blaster.
Use either the fast but weak fire mode or wait for the big one.
Select your system
Features
- CPU or VS Mode
- 2 fire modes (Weak/Fast) or (Strong/Slow)
- Keyboard, Gamepad and Touch compatible

CPU Mode

Vs Mode

Any Age

Gamepad

Touchpad

Keyboard
Play against the machine
or Challenge your friends in a deadly Versus game

Brace yourself, maybe one day
you will be ready for a real live battle...
Or not ;)